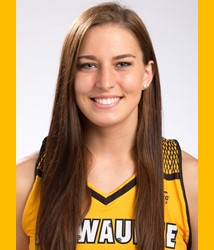 Steph Kostowicz is a former Impact player that earned a scholarship to UW-Milwaukee where she had a very successful career and is now playing professionally in Europe. Steph was named 1st Team All-Conference for the Panthers in her sophomore season. She was an all-state player at Oak Creek, where she was part of a state championship team her senior year.
Steph also participated in track at UW-Milwaukee, where she competed in shot put, discus, and javelin. She was a 2-time state qualifier in both shot put (2nd in state her senior year) and discus; she holds Oak Creek records in both events; and she holds the Southeast Conference record in shot put.
Steph has been an instructor at numerous high school and college camps and has experience coaching varsity players in off-season leagues. Steph will be the head coach for the 2025 team in 2019.