June 24-26, 2022 - Waukesha County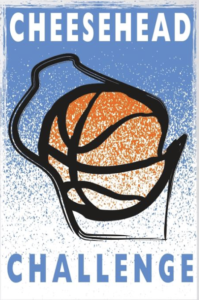 For each of the last 8 years, this is believed to be Wisconsin's largest girls' tourney . This tournament has drawn teams from Wisconsin, Minnesota, Iowa, Illinois, and Missouri. With 4 stopped clock games and athletic trainers provided at all sites for $325, you simply will not find a better value around.
Typically, more than 30 college coaches from NCAA DII, NCAA DIII, NAIA, and Junior College divisions are in attendance. Typically, half of all games are decided by 10 points or less; 80% of all games are decided by 20 points or less; and only 5% of the games are decided by 35 points or more - this is the place to be if you are looking for your team to be challenged and for the best value for your program!
2021 Cheesehead Challenge Results
2019 Cheesehead Challenge Results
2018 Cheesehead Challenge Results
2017 Cheesehead Challenge Results
2016 Cheesehead Challenge Results
2015 Cheesehead Challenge Results
Teams are divided into divisions based on grade and ability - typically there are 13 to 16 divisions spanning 8 grade levels. 
All divisions except 4th will play exactly 4 stopped clock games. 4th will play 4 running clock games.
Younger divisions will play Friday (late afternoon / evening) and Saturday; older divisions will play Saturday and Sunday (finished by 6pm).
Entry Fee: $325 ($275 for 4th grade)
Includes: Trainer at each site; on-line scheduling / score reporting; WIAA-certified officials; and free admission for up to 2 coaches and 1 scorer/timer for each team.